Research Project Update: Only 10 days left until the start of Harris Flights
Having been a research intern on the Harris Flights project for 5 weeks now, I've been lucky enough to be privvy to lots of exciting developments and meetings.
With only 10 days left until the start of the intervention, everything is finally coming together, with the programme/posters going to print (along with the confirmation of acts – more on that later), construction work starting shortly and a dynamic social media campaign in full swing. (See poster below)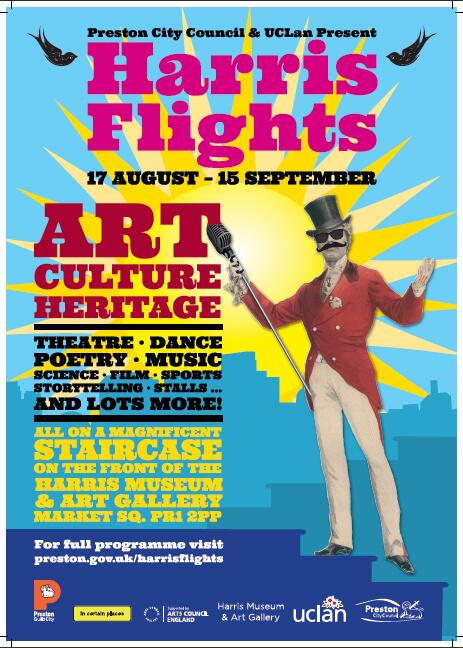 One of the main observations I've incurred over the past month, is that any delivery of a public intervention or arts event is truly a collaborative effort.
Moreover, part of the brief I've had to work towards as a research intern called upon the following
'The intern will focus on capturing the voices of representatives from the different parties involved in the project and thereby bringing a different perspective and interpretation to the project and the work of In Certain Places.'
Henceforth, over the past few weeks, in addition to shadowing meetings with the different sub-sections involved, from the marketing team to the events team, I've also conducted research into each of the institutions involved in the project, these include Preston City Council, Harris Museum and Art Gallery, UCLan and In Certain Places. As well as significant figures within those organisations,  some of which I've been able to devise questions for and interview.
As I upload the interviews in the lead up to the unveiling of Harris Flights, along with my own reflections and analysis. I hope to provide insight into contemporary public arts practice and more importantly the importance of the relationship between art and place, in this instance the city of Preston.
By the end of the project I hope to have answered these questions in particular
1. Will the project encourage debate about long term fixtures/changes to the city?
2. What regenerative effects if any, might the project produce?